History of the PHSAA Site
William Reed shared the idea that an Alumni Association was needed for Palestine High School in July 2006. The idea remained just an idea until Janice Bedre Burris (1958) took the lead. The result of her involvement led to an initial meeting on October 10, 2007, and the PHSAA organizational meeting on January 22, 2008.
With the help and support of Mr. Reed's family, friends and new contacts with other 'good folks' from Palestine, his hope of a site or a place where PHS classmates could find a connection to their past was born.
Mr. Reed created the original website project in the summer of 2000 with a scan of the 1955 & 56 yearbooks on Yahoo. With very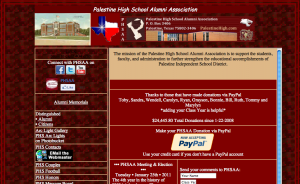 little knowledge of digital images, and no idea of how to start a web page, Mr. Reed started what would turn out to be a site containing years of exhausting information on the PHSAA. Yahoo Geocities was the tool used to create the original website that finally got a home away from Yahoo in 2005.
Mr. Reed passed the website responsibilities on in February of 2011. The PHSAA hired Red Yetti LLC of Lubbock, TX to re-design and develop a new format for the site. Red Yetti took strides to meet the goals of PHSAA, yet maintain the same spirit of the site that Mr. Reed envisioned.
The PHSAA would like to thank Mr. Reed for his dedicated service to the creation and maintenance of the original PHSAA website, and the gift of communication and history it has given to the past and future PHSAA members and friends.