January 2017 HAAT Award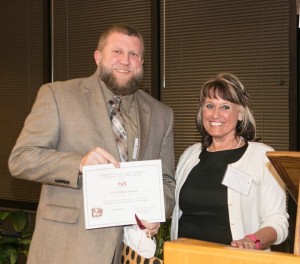 Palestine High School Alumni Association
January HONOR A TEACHER/ADMINISTRATOR AWARD
PHSAA presented its January honoree with the HAAT Award at their Annual Meeting and Distinguished Alumni Dinner held on January 27th.
PHSAA is proud to honor, Dr. William Stewart, PHS Principal with the January HAAT Award. Dr. Stewart is a graduate of Greenville High School. He earned his Bachelors of Science and Masters of Science from Texas A&M University at Commerce. He earned his Doctorate in Educational Leadership from Stephen F. Austin in 2016. He has served the students of PHS since 2011 and is starting his 5th year as the principal.
Dr. Stewart's objective is: To use my knowledge, skills, and experience to serve as Educational Leader in a district that values loyal, honest, hard working professionals that are dedicated to ensuring student success through researched based practices, data driven decision making, and democratic principles.
In addition, the 2016-2017 school year will be his 23rd year in education. He has a wife of 25 years (Tamiko) and 3 adult children Tristan, Keegan, and Lauren.
The Alumni Association honors a Teacher or Administrator each month who has gone above and beyond in assisting students academically.