Palestine High School Alumni Association to Honor Judge Bascom W. Bentley, III with 2017 Alumni of the Year Award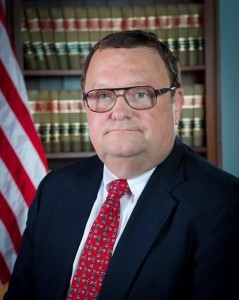 Friday, January 27, 2017 the PHSAA will hold its annual Alumni Dinner and General Meeting. Each year a distinguished alumnus is recognized for their accomplishments and contributions in their lifetime. This year the honor goes to Judge Bascom W. Bentley, III. He will be honored at the event among his family, friends, and the community where he was raised. Judge Bentley is a selfless man who has given back to the community as well as the PISD. He has done much for the poor and afflicted. He has received many accolades for his service to the law as well as being named Citizen of the Year by the Palestine Area Chamber of Commerce in 1985 and then a Lifetime Achievement Award in 2013.
Judge Bentley was born in Fairfield, Texas and graduated from PHS in 1969. He went on to graduate with a BBA from the University of Texas in 1974. He received his Dr. of Jurisprudence from the University of Houston in 1976 and attended graduate school at UT Tyler 1988-89. He was licensed by the State Bar of Texas on February 1977.
Judge Bentley married Carol Swift Bentley and they are the parents of four children, Bonnie, William, Hunter and Matthew.
During his career Bascom served as City Attorney for Palestine from August 1977 thru October 1988, County Attorney for Anderson County, Texas, October 1977 thru December 1981, Judge for County Court-at-Law, Anderson County, June 1982 thru September 1989. He was appointed District Judge by Governor Clements to the 369th Judicial district on September 1, 1989.
His professional organizations include the State Bar of Texas, Anderson County Bar Association President 1980, Cherokee County Bar Association, and the American Bar Association. Judge Bentley served as Palestine United Way President in 1981 and Director 1978-1981, as well as Campaign Chairman in 1980. He was Salvation Army Director and President from 1978-2010, Anderson County Red Cross Director 1983 -1986, Anderson County Cancer Society Director 1984-1986, and member of the Lions Club and the Palestine Masonic Lodge #31. He is a lifetime member and elder of the First Christian Church where he was Chairman of the Board in 1989.
Judge Bentley served on the faculty of Trinity Valley Community College beginning in 1978 as an instructor in Political Science, History, Economics and Business Law. He was an instructor in criminal Justice at UT Tyler in 1988, on the faculty of the Judicial College for the Texas Center for the Judiciary 1991-1993, and the faculty at Texas College for New Judges 1991-1995. He served on the Board of Directors for the Texas Center for the Judiciary 1997-2000, and was a member fo the Board of Trusties for Lon Morris College from 2003-2006.
Judge Bentley was selected in 1999 by the John Shepperd Public Leadership Institute and the University of Texas as an Outstanding Local Leader and named Citizen of the Year by the Disables American Veterans, District 3 for outstanding support of veterans. He received the Damn Good Judge Award in 2001 from the Texas Gang Investigators Association for exemplar work in fighting gang activities in Texas. He was named Distinguished Alumnus by Trinity Valley Community College in 2003 as well as receiving the Chamber Citizen of the Year and the Lifetime Achievement Award.
Bascom is tireless in his service to Palestine and Anderson County. He takes pride in the murals he helped to secure that grace the Courthouse and various locations downtown. He is a thoughtful friend to many and always lends a listening ear to the needs of others.
The Judge was honored in October this past year with the opening of the brand new three room Bascom W. Bentley, III Exhibit on the 3rd floor of the Museum for East Texas Culture. Bentley's collection, once housed in his offices at the Courthouses in Anderson and Cherokee Counties, includes historical artifacts, political memorabilia, an extensive sports collection that ranges from PHS to college and professional football, along with numerous pop culture items and his personal game trophy collection.
Tickets are now on sale for $20 for the alumni dinner. President, Sandra Shaver Lane can be contacted for more information at: 903-723-2757 or slanerlane@embarqmail.com. The community is invited to attend.
Anyone who would like to send a congratulatory note may do so by sending it to: PHSAA, P.O. Box 3406, Palestine, TX 75802, Attn: The Honorable Bascom W. Bentley, III.
Sponsors for the event are Kim's Convenience Stores and Boxcar Deli, Ben E. Keith, and Richardson Advertising and Publishing, Inc.