Bradley "Robert" Reeves 1970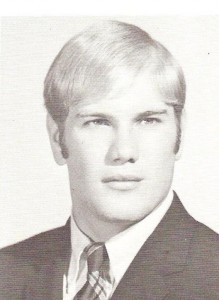 11 / 26 / 1951  –  04 / 22 / 2010
Memorial services for Bradley "Robert" Reeves Jr., 58, of Plano, will be at 1 pm on Saturday at Herrington/Land of Memory Funeral Home. Robert went to be with the Lord on Thursday evening, April 22, following a courageous battle with pancreatic cancer.
Born November 26, 1951 in Fort Worth, Robert was the son of Bob and Charlsye Reeves of Palestine. In 1970, he graduated from Palestine High School, where he was a proud athlete on the Wildcat football and baseball teams. Robert continued his education at Tyler Junior College where he met many of his lifelong friends, including his brothers in Sigma Alpha Epsilon fraternity.
Robert received his Masters of Social Work in May 2009 from Texas A&M Commerce and was a licensed master social worker. At the time of his death, he was completing a fellowship with the Veteran's Administration in Dallas. Robert formerly was a counselor with the Greater Dallas Council on Alcohol and Drug Abuse.
Robert is preceded in death by his parents Charlsye and Bob Reeves; brother, Bill Reeves; and sister, Marilyn "Bobbie" Reeves Green.
He is survived by his brother in law, James Green of Tool; his nephew Michael Green and wife Barbara of Grand Prairie, their daughters Michael Kern and Robin Goen and their families; niece Charlsey Holler and husband Jeff of Fort Worth and their daughters; Stacy West and Jennifer Campbell and their families; nephew Preston Green and wife Sheri of Cedar Creek Lake and their sons, Paxton Green and Caleb Green and their families; niece Meg Hughes and husband Johnny of Cedar Creek Lake, their sons, Robert and Richard and families. Robert also has nine great great nieces and four great great nephews
Robert had a huge extended family of friends who were very special to him.  With a heart bigger than Texas, he was always the first to help those in need and recognized something good in each person he met. He was known for his quick wit and contagious laughter.
Robert always looked forward to his annual golf outing with his Sig Ep buddies at Lake Whitney and the family gatherings, especially golfing with his nephews.