Betty Liles Avant French 1958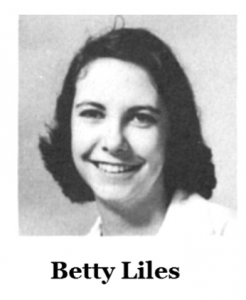 06 / 09 / 1940  -  06 / 22 / 1993
Memorial services for Betty Liles Avant French, 53, of Palestine, will be at 10 a.m. Friday at the First Presbyterian Church with Dr. Jeff Cover, the Rev. Lynn Wilhite and Dr. Tom Rousseau officiating.
Mrs. French died Tuesday at East Texas Medical Center in Tyler.
She was born June 9, 1940, in Palestine to Mary Louise Schultz Liles and the late Benjamin Glynn Liles, Sr.
She is survived by her husband, Roy French of Tallahassee, FL; her mother, Mrs. Bennie Liles of Palestine; sons Mark Allen Avant of Arlington and Kenneth Merl Avant of Clifton, TN; a sister, the Rev. Lynn L. Wilhite of Waco; brothers, Dr. Ben Liles, Jr. and Jim D. Liles, both of Palestine; and one grand-daughter.
Condolence calls will be received at the home of Mrs. Bennie Liles.
The family suggest that those desiring may make a memorial contributions to the Anderson County Historical Commission, c/o Virginia Goodrow, Route 4, Box 4116, Palestine, Texas 75801, or to a charity of choice.
Palestine Herald Press June 24, 1993